How have property prices fared over the last 12 months? Which way is the market headed? Here, we take a quick look at the current state of the market.
A year of growth
2016 saw capital city property prices grow at their fastest rate since 2009.
In the 12 months to May 2017, property prices lifted in all capital cities, except Perth and Darwin which experienced dips of 3.82% and 6.43%¹ respectively.
Melbourne and Sydney lead the growth cities with average increases of 11.52% and 11.07%¹. Prices in Canberra and Hobart also experienced significant growth, sitting at 5.65% and 5.80% while in Brisbane and Adelaide growth was in the 2–3% range¹.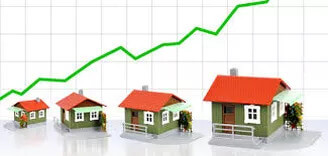 Trends for the year ahead
Many experts agree that property prices in Australia are likely to continue rising during 2017 before losing momentum with some segments starting to slide backwards.
While past results are not a reliable prediction of future performance, the results for the month ending 31 May 2017 indicate a possible cooling of the market, especially the residential unit market.
In all capital cities, except Perth and Brisbane, unit prices dropped during May.
In Sydney, the drop was 2.70%. With a drop of 1.04% in house prices, Sydney experienced an overall negative change of 1.32% for all dwellings during May¹.
Melbourne experienced a larger percentage drop, with units prices dropping 3.79% and houses dropping 1.47%. Melbourne experienced an overall negative change of 1.68% for all dwellings¹.
In May, the biggest slowdown was observed in Hobart, with month-on-month residential house and unit prices dropping by an overall 4.84%¹.
NAB expects the market to cool noticeably in 2017, but notes prices could be more resilient than some commentators have suggested, with fewer properties entering the market and underlying demand remaining solid in many areas. However, authorities have announced prudential measures that are seeing credit conditions tighten, which combined with a record pipeline of residential construction in some cities, is adding to the uncertainty facing the housing market outlook. NAB expects the market will continue to soften into 2018.
Federal Budget 2017-18
The recent Federal Budget contains a few proposals that may factor into the direction of property prices as we move further into 2017. Foreign investors might put less pressure on the market if an annual foreign investment levy goes ahead, which will kick in when foreign investors leave their property vacant for more than six months. It's also proposed that a capital gains tax should apply to foreign property owners who sell their main residence. An incentive for older Australians to downsize, along with a super savings scheme for first home buyers, may also affect property availability.
It seems property prices may be coming off the boil, but the degree of cooling is a case of 'watch this space'.
Sources
¹https://www.corelogic.com.au/research/monthly-indices.html
http://www.smh.com.au/business/property/home-prices-will-rise-dont-expect-a-crash-economists-20170201-gu35ta.html
http://www.smh.com.au/business/property/home-prices-will-rise-dont-expect-a-crash-economists-20170201-gu35ta.html; https://www.nab.com.au/sites/personal/home-loans/property-insights
For any help with your home loans call us on 0447 747 000